At NCL ICB, we are committed to driving an organisation that is diverse and inclusive where there is no place for prejudice, disrespect, microaggressions, discrimination, bias or victimisation of our colleagues and stakeholders.
The See ME First campaign demonstrates our commitment to our values, and in particular the values of:
Embrace Diversity: "We will continue to celebrate the diversity of our people and communities and actively stand together to address discrimination and inequality."
Support: "We will respect each other and support our colleagues to reach their full potential to be the best in what they do, ensuring that the workplace is supportive to individuals' needs, remains safe and is an enjoyable place to be."
The See ME First Campaign, which was developed by Whittington Health NHS Trust, is a visual symbol showing your belief that ALL people are treated with dignity and respect, and to stand up when you see a colleague being disrespected, discriminated against, bullied or harassed.
If you would like to make your See ME First pledge and show your support moving forward, please fill out the Pledge Form and send your completed form to nclicb.bame@nhs.net with the subject header 'See ME First'.
The BAME Network will meet with interested colleagues to discuss their pledge and how they can support and contribute to the See ME First campaign. Staff members can then contact our Business Support Team at nclicb.businessservices@nhs.net to collect their very own See ME First badge.
To promote this campaign, you can add the QR Code below to your email signature. Once scanned, it will direct people to the official See ME First Twitter page: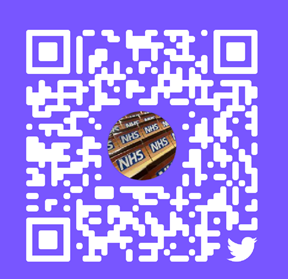 What does signing up to the "SEE ME First" campaign actually mean?
By signing up to the campaign you are sending the message that you will:
SUPPORT our colleagues proactively by not being a Bystander but an Upstander.
SPEAK UP and encourage others to do so, by making use of our Freedom to Speak Up.
CHALLENGE structural and all forms of discriminations and foster a culture where all experiences, skills and ideas are valued, and individuals respected.
SEEK the support from experts in the ICB to help ensure equal opportunities and fair treatment in the workplace for all.
RAISE awareness of culture and diversity – and support colleagues to do the same (e.g. Disability, LGBT+, race, religion, etc.).
INCLUDE all staff to make equity a reality for all – leave no one behind or excluded.
INFLUENCE colleagues positively to understand that people should be acknowledged, valued, appreciated, respected for who they are.
IMPACT the achievement of sustainable organisational culture change by sharing your experiences and through your expertise.
PROMOTE the local staff networks and opportunities for colleagues to come together to share experiences and views, to raise concerns about inequality and to provide a collective voice that represents diverse employees to bring about change.
LISTEN in our conversations with Executives and senior management in order to BUILD a genuine awareness of the barriers faced by people from diverse backgrounds, particularly in initiatives where we can bring most change, such as mentoring.
If you need further information, please contact: nclicb.bame@nhs.net